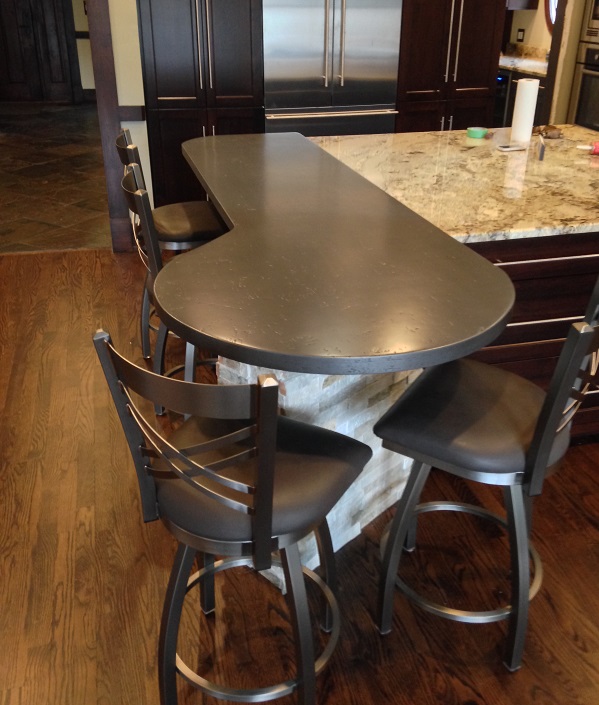 After years of successful applications in the European and Canadian market, an incredible line of metal coating products is now available in the United States. This product line provides our valued customers and partners the ability to apply a real metal veneer coating to the surface of almost any surface, giving it the appearance and feel of solid metal. We offer an array patterns, textures, and patinas under and over the metal, and will work with the imaginations of our partners and customers to create extraordinary pieces and applications.
This division of Hylan Design Ltd. is four years in the making to develop our team and practices to introduce this unique liquid metal veneer process to the Midwest market. Advantages to these metal applications over casting or metal fabrication are their recycled "green" nature, weight savings, functionality and cost.
Our metal veneer is an exclusive form of re-cycled pulverized real metals combined in a spray-able liquid binder, cold-sprayed to allow this metal to be applied to almost any rigid surface; it is extremely durable, waterproof and resistant to heat and most household chemicals, and is suitable for both indoor and outdoor projects. The applications of metal coating used by Hylan Design is for furniture components, cabinets, moldings, doors, drawer faces, decorative wall panels, screens, range hoods, bar tops and faces, shelving, exterior and interior doors, table bases, and corporate identity sculpture. It can also be great for signage and logos!
The liquid metal veneer is made of 100 percent recycled metal and currently offers eight different types of finishes -- gold, brass, bronze, copper, iron, nickel silver, white bronze and zinc. The metal coating is cold sprayed applied with a gravity-feed spray gun, which requires a few hours to penetrate and settle into the base material. Once applied, the metal veneer has excellent adhesion properties when used on most surfaces including MDF, plaster, plasterboard, glass, concrete, fiberglass, plastic, and even paper mache.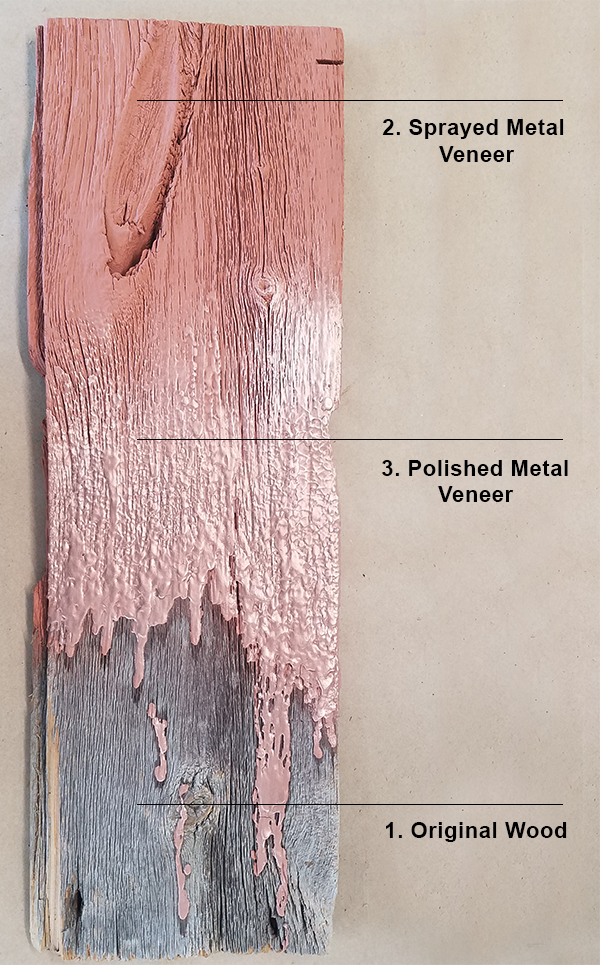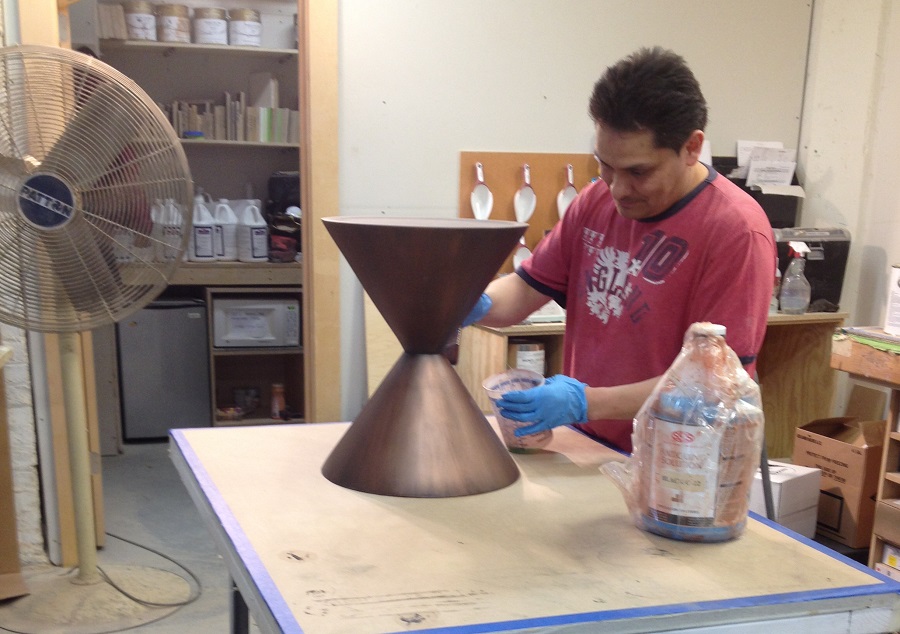 Application: Metal veneer appears to be almost as simple to use as paint, however, it is not paint and certain rules need to be observed. The liquid metal can be applied using brush or high volume, low-pressure spray equipment. The liquid metal may also be poured or troweled onto surface and used for cold metal casting or patterning.

Coverage Guide: Approximately one meter square per one kilogram of metal veneer liquid is applied depending on the absorbency and texture of the base material. The more textured the finish, the more liquid material is required. After application, the liquid metal coating will take between one to three hours to dry depending on humidity and room temperature.

Finishing: When liquid metal veneer dries, it will have a matte finish due to oxidization that occurs after contact with the air. Lightly sanding the surface will produce a pure metal finish. Further efforts of sanding and/or polishing will produce ever increasing grades of shine and luster that provide exciting metal finish possibilities. Other creative processes can be applied such as acid wash, patina wash, sandblast, wire brush and machined textures. Customers are encouraged to experiment with the liquid metal coating for all sorts of creative metal applications.

Sealing: As with any real metal, it must to be sealed to prevent tarnishing (unless a finish that continues to patinate over time is desired). Metals may be sealed with Nano-Coating, hard wax oil, or a clear coat urethane.

Hylan has trained a team of highly skilled artisans specializing in the application of real metal finishes to virtually any substrate; custom coatings and finishes available. Please contact or visit us to begin imagining your ideas into finished metal design.